ถ้าเจอ internal link ที่มีปัญหาคลิคแล้วตาย อ่านวิธีแก้ขั้นต้นครับ
ลิงค์หน้านี้ไปที่เฟซบุ๊คของคุณ
Share
Thread Rating:
จำลองตู้แอม - แอมกีต้าร์ - แอมเบส
Sun-10-Aug-2008, 10:18,
TangKai
Registered

Posts: 407
Threads: 61
Joined: Apr 27, 2007

RE: จำลองตู้แอม - แอมกีต้าร์ - แอมเบส
เห็นเฮียโป้อ้างอิงกระทู้นี้ขึ้นมา เลยขอเอาของเก่ามาแปะไว้ไม่ให้เหงาก่อนละกันครับ
ผมเขียนถึงตัวนี้ไว้ใน blog ตัวเองมาปีนึงพอดีเลย แต่มันก็ยังฟรีอยู่ น่าจะเอามาลองเล่นแก้เหงาได้
-------------------------------------------------------------------------
Studio Devil : Virtual Guitar Tube Amp
ค่ายน้องใหม่
Studio Devil
ออก Product แรกมาลองตลาดด้วย Guitar Amp sim ในรูปแบบ VST Plug-in
โดยออกมาชิมลางด้วย Free VST สำหรับ PC ก่อน ใช้ชื่อว่า British Valve Custom (BVC)
ตัวนี้ดูเหมือนเป็นตัวที่ตัดออกมาให้ลองใช้กันก่อน และมีแค่เป็น VST สำหรับ PC เท่านั้นในตอนนี้
โดยตัวเต็มๆจะตามมาในอีกไม่นาน ใช้ชื่อว่า Studio Devil : Virtual Guitar Amp
ลองดูข้อมูลของ BVC กันก่อนละกันครับ
- Authentic 12AX7A vacuum tube preamplifier stage emulation.
- Accurate tone stack controls: Bass, Mids, Treble, Presence
- 44.1kHz, 48kHz, 88.2kHz, 96kHz, 176.4kHz, and 192kHz support!
- 4X Up-Sampling Engine with 64-bit Floating-Point Internal Precision
ตัว BVC สามารถ download ได้ที่
http://www.studiodevil.com/download/downloadBVC.htm
ข่าวสารจาก
SonicState.com
ตัดแปะข้อความมาจาก
Polypink.com
Sun-2-Aug-2009, 22:00,
bZERO
Registered

Posts: 826
Threads: 34
Joined: Apr 25, 2007

RE: จำลองตู้แอม - แอมกีต้าร์ - แอมเบส
ARADAZ VST FREE
Aradaz Amp 2 Crunch

Aradaz Amp 2 White

Aradaz Amp 2 Green
เพิ่มเติม และ Download
Code:

http://aradaz.blogspot.com/search/label/VST%20-%20Aradaz%20Amp%202%20Green
=============================
AcmeBarGig
DIG

BIG
เพิ่มเติม และ Download
Code:

http://www.acmebargig.com/
Sun-2-Aug-2009, 22:03,
pt
Administrator

Posts: 3,023
Threads: 205
Joined: Apr 23, 2007
Reputation: 236

RE: จำลองตู้แอม - แอมกีต้าร์ - แอมเบส
bZero ....... เทพบุตร freeware
Mon-8-Feb-2010, 23:52,
bZERO
Registered

Posts: 826
Threads: 34
Joined: Apr 25, 2007

RE: จำลองตู้แอม - แอมกีต้าร์ - แอมเบส
AuraPlugs Freetortion Series
Red Skull Distortion
The Red Skull plug-in is an aggressive high-gain distortion pedal simulator with unbelievably chunky metal tones for playing Nu Metal, Grind Core, Hard Core, Trash Metal or any genre that requires crushing sound. The tone section gives you complete control over Bass, Midrange, and Treble to get the ultimate chunk for your virtual rig.
Fuzz-Stone Distortion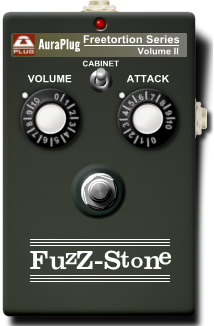 Fuzz-Stone is the second plugin in Freetortion Series. The Fuzz-Stone is a '60's styled guitar fuzz tone pedal which simulates the Legendary Stones' Satisfaction guitar tone. Try it now, it's FREE!
Fuzz-Stone[Ge] Distortion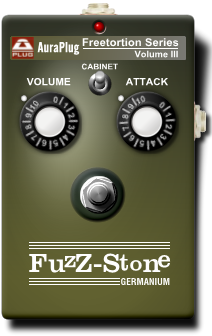 Fuzz-Stone[Ge] is the 3rd plugin in Freetortion Series. The Fuzz-Stone[Ge] is a great Fuzz style Germanium transistor distortion simulator. Check out our sound samples.
Whamdrive Distortion - Pitch Shifter
Whamdrive is a VST plug-in to shift the pitch of an incoming audio signal. It allows you to pitch an incoming audio stream in realtime with an external MIDI foot controller or with the GUI controls. Whamdrive features 14 different pitch modes. The harmony note and the input signal are mixed together as if two guitars were playing simultaneously in the first nine modes. Whamdrive works like a classic pitch shifter in the last five modes. The effect also includes a distortion unit with cabinet simulation. It has a special equalization method (uses only one knob) which gives you wider, stronger EQ control. Enjoy this little baby. Try it now, it's FREE!
California Sun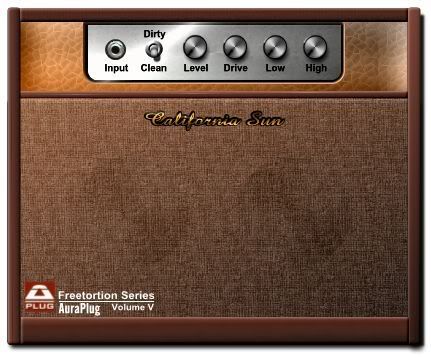 The California Sun is a classic guitar combo amplifier simulator with two channels (Clean and Dirty).
EddieVsHeaven
เพิ่มเติม และ download
Code:

http://www.auraplug.com/index.php?option=com_content&view=article&id=2&Itemid=14
Tue-9-Feb-2010, 09:30,
RE: จำลองตู้แอม - แอมกีต้าร์ - แอมเบส

TubeBaby is a digital simulation of a tube guitar amplifier. As such it features the standard controls found on a real amplifier, namely gain, bass, mid, treble, presence, master and a switch for activating the high gain mode of the preamp stage. The latest version also features a menu that lets you choose between three amplifier types, five cabinet emulations and the amount of high frequency passing through the power amp section. The menu can be accessed by clicking on the TUBEBABY logo in the upper left corner of the plugin.
TubeBaby is available as a freeware vst plugin for windows and can be used in every host application that supports vst plugins. The latest version is v. 1.0.1
The plugin was developped by me using Microsoft Visual C++ . All gui design was done by my beloved wife Mara.
ยังไม่ได้ลองครับ เพิ่งไปเจอมา
AcmeBarGig have released DIG Version 2.0. Here's what they have to say about it...
DIG 2.0 is a fully featured VST Guitar Amp simulator based on 2 12ax7 Tubes.
Features include:
Stereo Delay,
Noisegate,
Cabinet Shaper,
Manual,
A Separate amp designed specifically for Clean Guitar, called Whisper.
Presets with the ability to download and upload presets from the website
Tue-9-Feb-2010, 11:05,
(This post was last modified: Tue-9-Feb-2010, 11:07 by 1000Sound.)
1000Sound
Registered

Posts: 394
Threads: 10
Joined: Apr 27, 2007

RE: จำลองตู้แอม - แอมกีต้าร์ - แอมเบส
แจ่มๆทั้งหมดเลยครับ เเต่ยังไม่ได้ลองเลย
มัวเเต่นังดู web patid
Tue-9-Feb-2010, 12:44,
famemazter
Registered

Posts: 178
Threads: 31
Joined: Feb 05, 2008

RE: จำลองตู้แอม - แอมกีต้าร์ - แอมเบส
ชอบจััง ของฟรี มาสูบๆไปลอง : )

ขอบคุณที่แบ่งปันครับ
Thu-11-Mar-2010, 00:08,
bZERO
Registered

Posts: 826
Threads: 34
Joined: Apr 25, 2007

RE: จำลองตู้แอม - แอมกีต้าร์ - แอมเบส
เฉพาะทางมาก
Code:

http://www.guitarampmodeling.com/